Discussion Starter
·
#1
·
Launch of Kawasaki arrives to try to overcome the leading Honda. Ninja shows sportsmanship and CBR has proposed more versatile.
Having a sports bike can still be a distant dream for many people, models with high capacity top-line costing over $ 24,000. However, the arrival of calls made ​​small sports segment more accessible. A pioneer in Brazil this niche, the Kawasaki Ninja 250R has just evolve into Ninja 300, presented in mid-November and goes on sale this month, from $ 8651.00. The G1 model compared with its main rival, the Honda CBR 250R, which costs U.S. $7930 in the standard version.
Honda also launched in the country this year, in May, and now leads the sales of this niche. Both have the same style, however, follow opposite ways. CBR 250R Ninja and start from the idea of having sporty look, similar to the great "sport" of their brands like Ninja ZX-10R and CBR 1000 RR. But from there, the designs are quite different. While Honda seeks versatility, Ninjinha, how the bike from Kawasaki is usually called in Brazil, have more grip "racing".
This was already one of the main features of the previous version of the Ninja, Kawasaki that will keep sales up in June 2013 for $6727.00 - before the charge was $7478.00, but the athletic skills were even more latent in 300. Besides whole new look, it brings more powerful engine and technical advents such as assisted clutch and sliding, which prevents the rear wheel skid in sharp reductions marches.
Both the Ninja as a rival have ABS brakes as an option, and, at first, the item raises the price for $9613.00 while the Honda motorcycle with this device sells for 9132.00. According to the National Federation of Motor Vehicle Distributors (Fenabrave), CBR 250R sells about 600 units / month, while the Ninja 250R, former bestseller this niche in Brazil, emplaca an average of 250 units per month in 2012.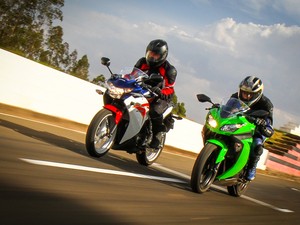 The venue for evaluating CBR 250R and Ninja 300, both versions without ABS, it was a closed circuit, in Piracicaba, São Paulo. With ups and downs, curves high and low speed, the terrain was ideal to note the different workings of the engines. The main difference between the models is exactly there: while the CBR uses a single cylinder engine (1 piston), the Ninjinha is equipped with propeller-twin (2 pistons).