Discussion Starter
•
#1
•
The second I got the bike home I went to lower the levers so that I could comfortable cover the brake. I was surprised to find that there was no way to do it because of the reservoir hitting the bar mount. The only suggestions I found was to get a a set of clip-ons or replace the master cylinder. Since I was happy with the bar location and did not want to spend big dollars I had to find another way. Do bring out the dremel.
1. I tried to mark the location of contact. (turns out the since the contact point is moving in a arc relative to the bar mount figuring out where and how much was not easy)
2. I tried a lot of different tools but all the alum/oxide drums and diamond wheels would quickly become covered in what looks like melted aluminum. It best I found was suggested by my son to use the little carbon fiber cutoff wheels to notch the area then slide it back and forth until it was even. Since the cut off wheels just get smaller and smaller as you work there is no problem of build up on them. As I was saying the movement is in an arc I would see where it was hitting them remove from that area but when I went to check it the area it was hitting had changed.
3. After much longer time that I had anticipated I was able to move from the stock location where the reservoir hits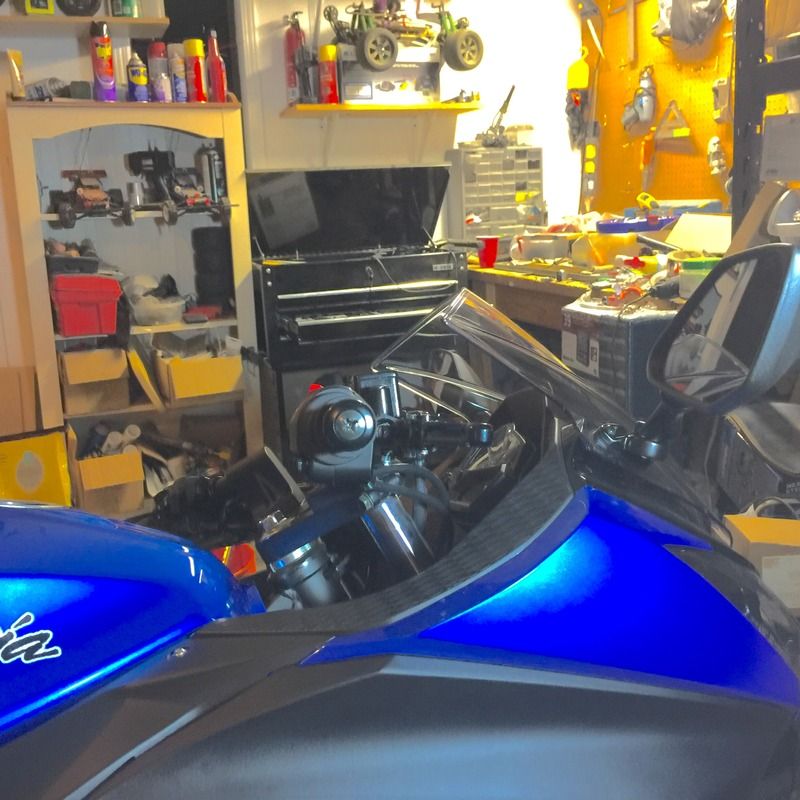 4.To this which is way more comfortable and natural to use.
I was a little concerned about weakening the bar mount but then I looked how little structure what was on real clip-ons so I hope it will be fine. (if you do this you do so at your own risk).