Discussion Starter
·
#1
·
So I was looking at lowering kits online, and, while $30 shipped for some adjustable rear dogbone links is quite appealing and more than reasonably priced, I would rather spend $10 for materials and make my own right now instead of wait up to 7 days for the others to arrive.
Here is the finished product. I have yet to lower the front, since I am waiting on the $30, 37mm clip-on handlebars.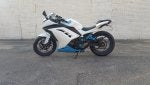 I measured the distance from centerbolt to centerbolt on the stock linkage and came up with 6.5". That, and knowing that the bolt holes are 0.5" (more accurately 12.1mm) was the only necessary information to draw up my interpretation of the aftermarket adjustable dogbones. I guesstimated the spacing between the other bolt holes and came up with 15mm from center to center. The stock links were a little over 1/4" thick.
From there I can measure whatever height setting I want and cut/drill the goods. Paid $7 for a 1" x 1/4" x 36" strip of welding steel and $3 for a can of black high-temp spray paint at Lowe's. For these I did 7.5" (190mm) from centerbolt to centerbolt, which would be the second to lowest height setting on the drawing.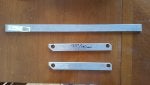 I painted them with the high-temp paint first (to protect from rust), then with some blue paint I already had to match my bike (and look cool). A strip of aluminum of the same dimensions was $12.50+ at Lowe's and would have been rust resistant, also much easier to cut/drill, but I did this for $10 and some blue paint I'd already gotten tons of use out of.
And installed. I do not know how much they actually dropped the bike, but well over 1". I have enough steel to make another set if I decide to go up or down, but I like where it's at now and the kickstand still works (enough).
I do not plan on purchasing a kickstand, since the one I like (t-rex) is > $69, which is too much when I can modify my own for < $10. I'll most likely cut off the first 3/4" of the bottom of kickstand and then have a new "foot" welded on after I lower the front and can no longer squeeze by with the stock kickstand.