Veteran
Join Date: Jan 2016
Location: Long Beach, California
Posts: 138
Thanks: 7
Thanked 13 Times in 13 Posts
Gunk near shift lever question
---
Hi All,
As a heads up I kerosene clean and lube my chain every 400-600 miles. I believe this gunk is coming from the front sproket and dripping down but your opinions would be helpful.
How do I clean this area?
Is this gunk from the chain dripping down or something else?
How would this area get so dirty/is this normal?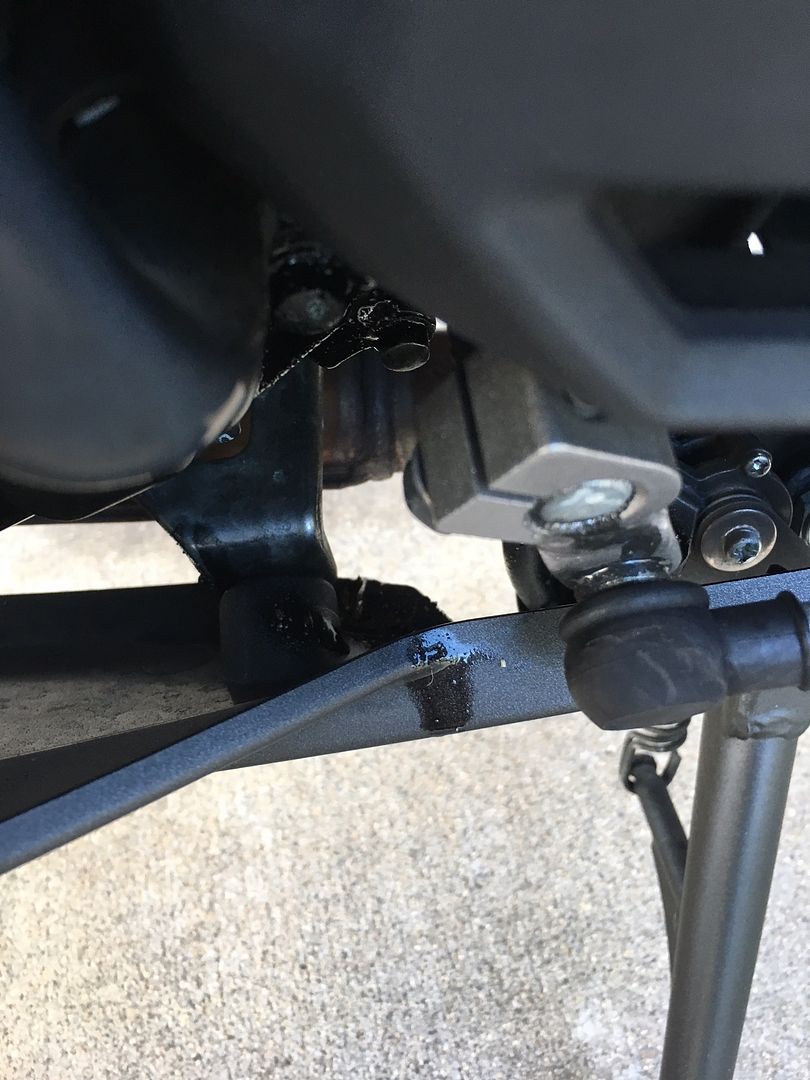 ---
2013 Kawasaki Ninja 300
Seasoned Vet
Join Date: Sep 2012
Location: New Braunfels, TX
Posts: 958
Thanks: 16
Thanked 138 Times in 116 Posts
That's exactly what it is....chain oil mixed with dirt. For some reasons, some bikes are really bad at collecting gunk from excess chain oil and dripping in this area. Other bikes fling it out the back and onto the wheel. You can avoid this completely and use chain wax instead of oil, or just wipe off all the excess oil on the chain immediately after you apply it. I take off the sprocket/chain guard occasionally and clean the front sprocket and inside the guard too. I suppose it could be kerosene instead of chain oil. Same thing applies, and you need to get rid of the kerosene before applying the chain oil or wax. I only use kerosene on a chain if I've taken the chain off the bike. Otherwise it just seems to move the dirt around. If you use wax instead, you never accumulate much dirt and grime.

I would take off the sprocket guard, clean it and the sprocket and the chain using kerosene (actually, I prefer a spray chain oil to clean these areas because the aerosol helps flush the dirt out). Do the lower part of the chain, one section at a time and put newspaper under the area to catch the liquid that drips off. I actually spray with my right hand and hold a couple paper napkins between the chain and the bike/wheel as I do this and it never drips onto the ground. Then dry the chain and sprockets as much as you can as you clean the chain and before moving the bike again to do another section. I use some more paper napkins to do this.Oil the chain on the side stand, not on a rear stand. If you start at the master link, you know when you've been around completely. Then when everything is clean and dry apply chain wax. Walmart sells Champion spray chain wax that's cheap and works well. You won't really need to clean the chain again unless you ride in mud for example, but if you do, you can just use soap and water, dry it completely, then apply more chain wax. The way I dry the sprocket and chain is use my MetroVac, ride the bike, let it set in the sun, wipe the bike and chain down, and remove the sprocket guard again to clean that area. Once I'm convinced the chain and sprockets are completely dry, I apply more chain wax.
---
Last edited by dkw12002; 09-20-2016 at

01:43 PM

.
Veteran
Join Date: Jan 2016
Location: Long Beach, California
Posts: 138
Thanks: 7
Thanked 13 Times in 13 Posts
@
dkw12002
- Awesome reply, will give it a good deep cleaning this weekend. I had thought i might have had a heavy hand in Chain Lube as i know it is sticky and can attract dirt/grime.
Love the detailed writeup.
---
2013 Kawasaki Ninja 300
| | |
| --- | --- |
| The Following User Says Thank You to jrkleinow For This Useful Post: | |